MOFGA has offered chainsaw safety classes across the state for more than ten years. These popular courses help individuals gain the confidence and skills needed to operate chainsaws safely and be better stewards of the forests and lands they care for.
MOFGA offers two types of chainsaw safety workshops:
Open-to-All Chainsaw Safety
Open to everyone over the age of 16 interested in learning safe chainsaw operation.
There are no upcoming events.
Femme, Nonbinary, Trans and Women (FNTW) Chainsaw Safety
There are no upcoming events.
Course details for all of our chainsaw workshops:
MOFGA's chainsaw safety courses are designed for a beginner audience and focus on teaching safe chainsaw use in an inclusive environment. Our goal is that by the end of the weekend, students have a strong foundation in safe operation, understand their abilities and limitations, and feel ready to continue practicing at home.
We hold classes in

nearly all weather conditions, so please bring seasonally appropriate clothes.

Lunch, water and snacks for each day.

Steel-toed or safety-toe boots. 

Several manufacturers make chainsaw-specific safety boots with extra cut protection. These are a great option but are a significant investment, especially for the occasional chainsaw user. The course only requires participants wear steel- or safety-toe boots, which are available in several styles from many manufacturers. Sizing varies by manufacturer and fit is very individual, so we recommend in-person shopping at a store where you can try on several brands and find what is most comfortable for you.
Optional (Bring if you already have them — we do have extras for participants to share)
Lakes Environmental Association photo

Hard hat/helmet.

We recommend using three-in-one helmet systems with built-in face shields and hearing protection.  

A Chainsaw. 

If you would like to bring a chainsaw from home, please ensure it is running before the class. If your chainsaw doesn't start easily or does not pass a safety inspection, you can borrow an instructor's saw. We do not recommend that participants buy a saw specifically for the course. We will discuss chainsaw selection, size and brands during the weekend, which may help you make a better-informed decision after the course. 

Chaps.

MOFGA recommends the use of wraparound-style chaps that protect the back of the ankle and lower leg.
We believe that commonly available chainsaw chaps have reduced effectiveness against cuts from electric chainsaws versus gas-powered models. Because safety is our primary goal, we do not allow participants to use electric chainsaws during the course and ask that you do not bring them. We recognize the advantages of electric technology and may revisit this in the future as Personal Protective Equipment evolves.
In almost all cases, our host sites do not offer overnight accommodations; we ask that students commute to the class each day or independently find local lodging.
This one and a half day course runs from 8 a.m. to 1:30 p.m. on Saturday and 8 a.m. to 4 p.m. on Sunday. Each class moves at its own pace based on participant experience and comfort level, so each day's schedule is flexible and no two classes are exactly alike.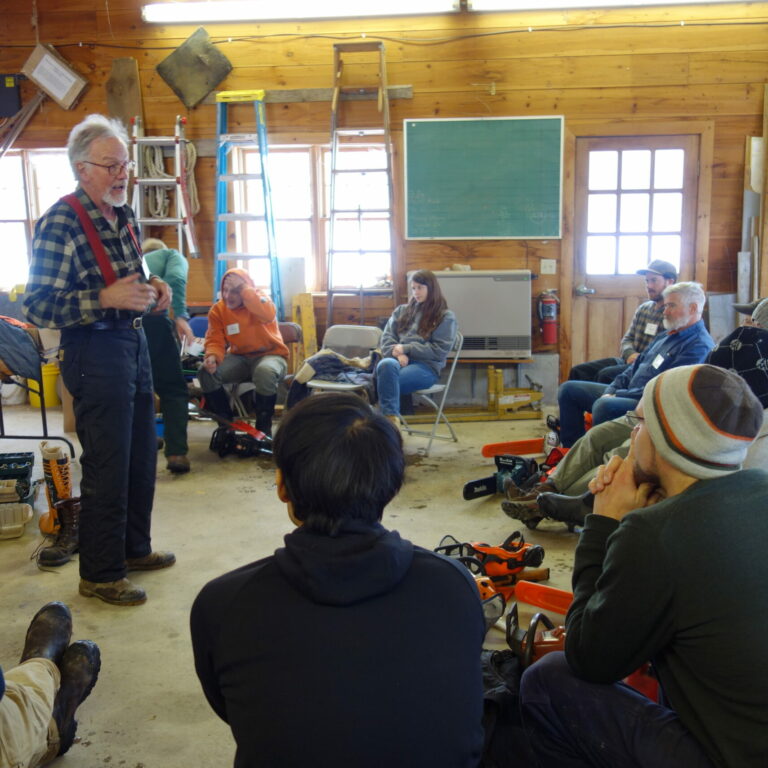 We generally cover Personal Protective Equipment, chainsaw selection, safe-starting procedures, body mechanics and basic bucking on Saturday. Much of the day is spent as one large group, with a morning presentation and hands-on practice in the afternoon.
Sunday is mainly hands-on, with students split into groups based on experience level and interest. Each group will practice bucking, reading reactive forces in logs, bore cutting and making open face notches under direct supervision from an instructor. Weather permitting, every class includes a demonstration of tree felling using an open-face notch and bore-cut, and some students may have a chance to fell a tree, depending on their comfort level and ability. Time permitting, the course also covers breaking down a chainsaw, saw maintenance and chain sharpening.
We work with an experienced pool of men, women and nonbinary instructors across the state who we've selected to teach at our courses based on both their saw experience and their ability to share knowledge in a safe, thoughtful way. To ensure safety and an individualized workshop experience, we maintain a 5:1 student-to-instructor ratio for all our classes.
Partner organizations generously host us on their land, which allows us to hold these workshops across the state. If you know of a forest-owning organization in your area that might be interested in hosting a MOFGA chainsaw safety workshop, please let us know.
Femme, nonbinary, trans and women chainsaw safety:
This course covers similar topics as the open-to-all course but is designed and structured to create a welcoming learning environment for beginner-level FNTW chainsaw users. The course is taught by female, nonbinary and male instructors, and has a woman course moderator. Like all of MOFGA's programming, the overwhelming focus of the workshop is on safety, fostering inclusivity, and creating a space where participants feel comfortable asking questions and learning at their own pace.
MOFGA first offered this class in 2022, which grew from women's chainsaw safety programming offered across the region by Women Owning Woodlands and the Forest Stewards Guild.
Participants must be 16 or older.
Look for a participant's perspective on the FNTW chainsaw safety course in the Summer 2023 edition of MOFGA's newspaper, the Maine Organic Farmer and Gardener.